Meet the Commissioners: Andrea Sutcliffe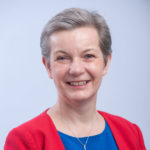 Chief Executive of the Nursing and Midwifery Council
"It's clear the way we live our lives has been fundamentally changed by Covid-19. We have a once in a lifetime chance to come together to shape a future that reflects the incredible collaboration and resilience shown by individuals and communities across the UK throughout this crisis. 
"Many of our dedicated nursing and midwifery professionals, working across and health and social care, have been at the heart of response to this pandemic from the beginning, which is why I'm delighted to be involved in the Commission. I want to play my part to ensure the diverse voices of our nursing and midwifery professionals are heard, and the interests of health and social care are recognised as we all work together to create our new normal."
Andrea has over 30 years' experience in health and social care.
She joined the Nursing and Midwifery Council from the Care Quality Commission (CQC) where she was the Chief Inspector of Adult Social Care since October 2013. While there she led on the regulation and inspection of adult social care including residential and nursing homes and domiciliary care. Andrea was also responsible for the registration team, supporting all health and care sectors.
Prior to that she had roles as the Chief Executive at Social Care Institute for Excellence and also Chief Executive of the Appointments Commission. She was also an Executive Director at the National Institute for Health and Clinical Excellence for seven years.
In July 2016, in recognition of her work in social care, Andrea received an Honorary Award of Doctor of Science from the University of Leeds. She was awarded a CBE for services to adult social care in the 2018 New Year's Honours List.