Join Demos at the Labour party conference 2023
Published:
At this year's Labour party conference we'll once again be holding a range of panel events with expert speakers, including politicians, businesses, civil society leaders, journalists and other experts that bring fresh ideas and perspectives.
We'll be discussing the future of business, reforming public services, tackling homelessness and the potential of Generative AI.
The core of what makes a party conference special is the participation and engagement of attendees, the questions and contributions from the floor and the conversations that start in response to the discussions at events. So do make sure you come along and give your views on the big issues facing the country.
October 8th – 17:00 – 18:30
The Road to the election: Democracy in the UK
Sir John Curtice, Professor of Politics, Strathclyde University
Pippa Crerar, Political Editor, The Guardian
Miriam Levin, CEO, Engage Britain
Sarah Castell, CEO Involve
Jessica Garland, Director of Research and Policy, Electoral Reform Society
Polly Curtis, Chief Executive, Demos (Chair)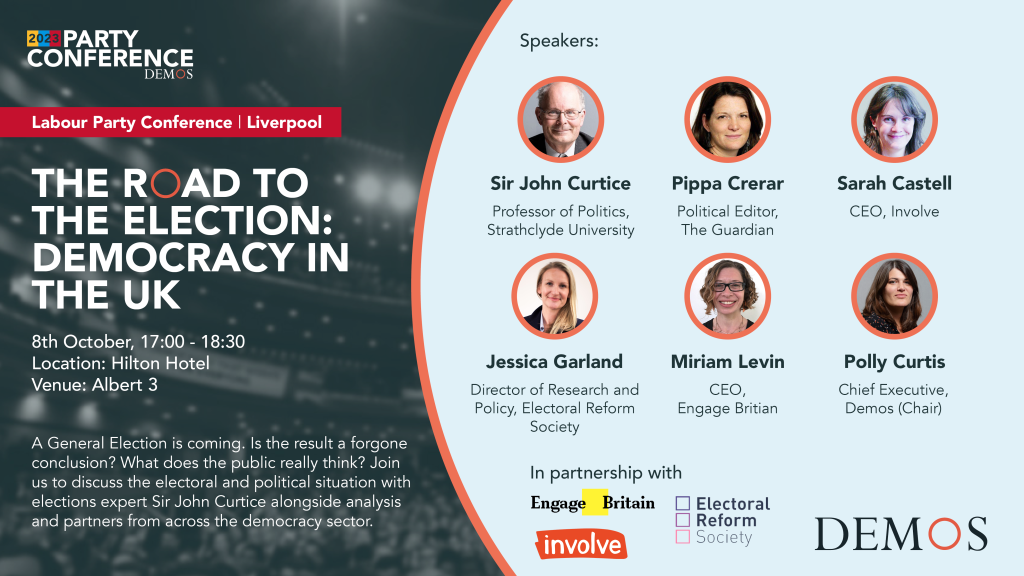 October 9th – 8:30 – 10:00
Wake up to better business: Unleashing the power of business to drive growth and create good jobs
Sarah Jones MP, Shadow Minister for Industry and Decarbonisation
Ayesha Hazarika, Columnist, Evening Standard, The i
Mary Portas, Co-Chair, Better Business Act
Chris Turner, Executive Director, Better Business Act
Paul Lindley, Philanthropist and Founder of Ella's Kitchen
Lewis Johnston, Director of Policy, ShareAction
Polly Curtis, Chief Executive, Demos (Chair)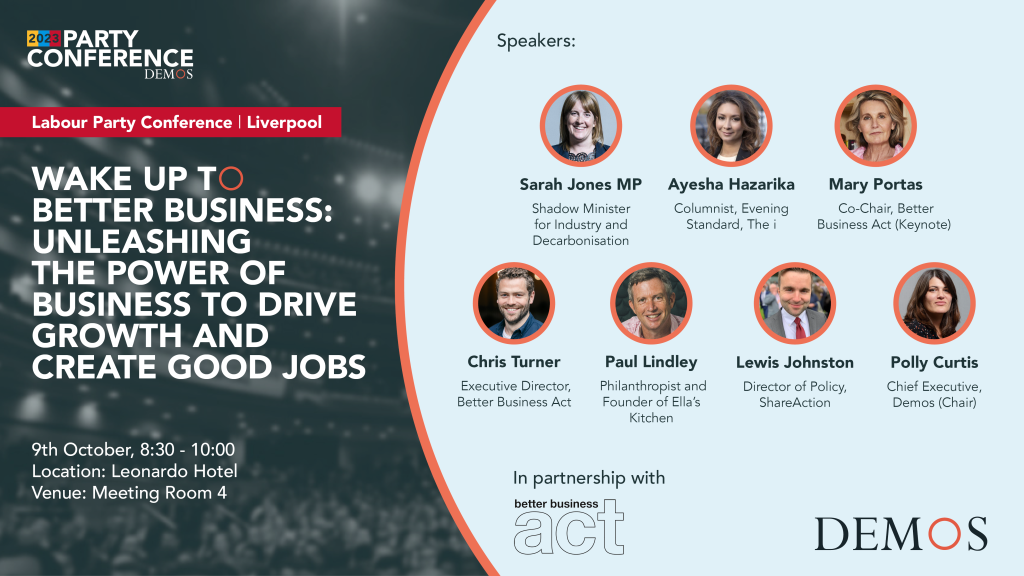 October 9th – 15:30 – 17:00
Communities in charge: Building prevention in public services
Councillor Jane Ashworth OBE, Leader of Stoke-on-Trent City Council
Matt Leach, Chief Executive of Local Trust
Kirsty McNeill, Executive Director of Policy, Advocacy and Campaigns, Save the Children
David Halpern CBE, President and Founding Director of the Behavioural Insights Team
Jack Burkinshaw, Chair of Brereton Million Big Local in Staffordshire
Polly Curtis, Chief Executive, Demos (Chair)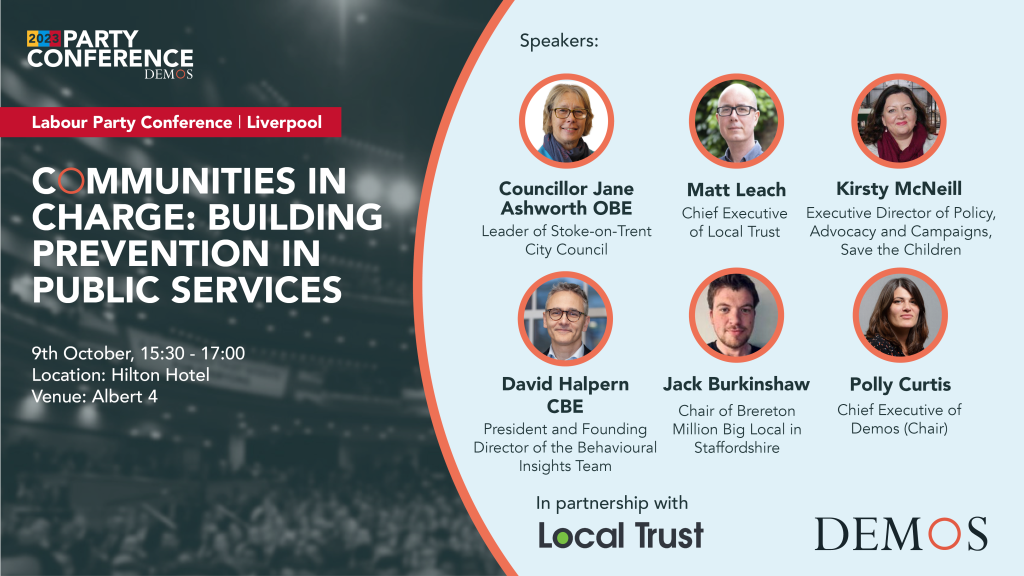 October 9th – 19:30 – 20:30
In conversation with Labour's next generation 
Hazel Blears, Social Investment Business & Former Secretary of State for Communities and Local Government
Abtisam Mohamed, Labour PPC for Sheffield Central
Emily Darlington, Labour PPC for Milton Keynes South
Jo Platt, Labour PPC for Leigh
Harpreet Uppal, Labour PPC for Huddersfield
Lola McEvoy, Labour PPC for Darlington
Polly Curtis, Chief Executive, Demos (Chair)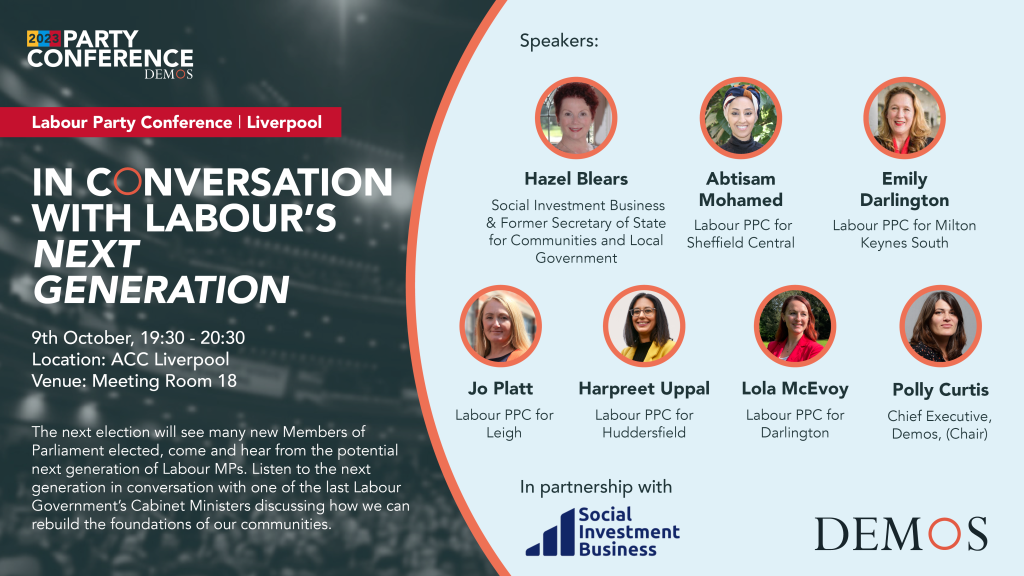 October 10th – 12:30 – 13:30
Winning people back: How can we provide housing that meets the public's aspirations?
Chris Norris, Director of Policy & Campaigns, NRLA
Councillor Stephen Cowan, Leader of Hammersmith & Fulham Council
Richard Rowntree, Managing Director of Mortgages, Paragon Bank
Vicky Spratt, Housing Correspondent, The i
Polly Curtis, Chief Executive, Demos (Chair)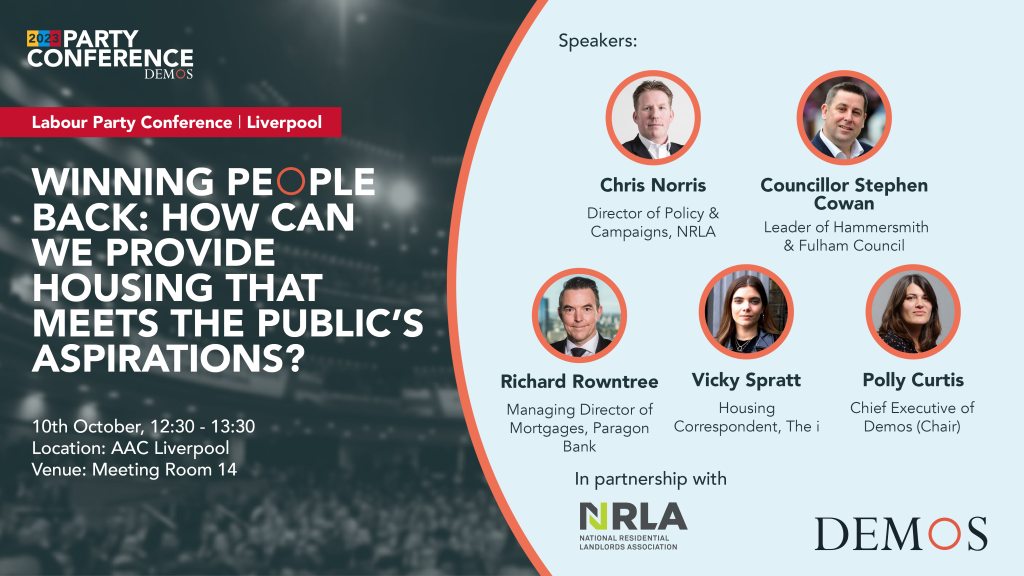 October 10th – 18:00 – 19:30
Can Generative AI create an inclusive economy?
Alex Davies-Jones MP, Shadow Minister for Tech and Digital Economy
Sean Williams, CEO, AutoGenAI
Resham Kotecha, Head of Public Policy, Open Data Institute
Matt Davies, UK Public Policy Lead, Ada Lovelace Institute
Helen Milner, Group Chief Executive, Good Things Foundation
Polly Curtis, Chief Executive, Demos (Chair)