Join Demos at the Conservative party conference 2023
Published:
At this year's Conservative party conference we'll once again be holding a range of panel events with expert speakers, including politicians, businesses, civil society leaders, journalists and other experts that bring fresh ideas and perspectives.
We'll be discussing the future of business, reforming public services, tackling homelessness and helping older people to stay in work.
The core of what makes a party conference special is the participation and engagement of attendees, the questions and contributions from the floor and the conversations that start in response to the discussions at events. So do make sure you come along and give your views on the big issues facing the country.
October 1st – 18:00 – 19:30
The Road to the election: Democracy in the UK
Sir John Curtice, Professor of Politics, Strathclyde University
Miriam Levin, CEO, Engage Britain
Sarah Castell, CEO Involve
Polly Curtis, Chief Executive, Demos (Chair)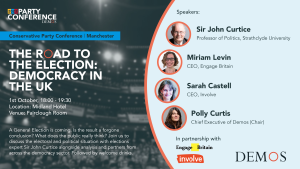 October 2 – 08:00 – 09:30
Wake up to better business
John Oxley, Journalist & Writer
Chris Turner, Executive Director, Better Business Act
Alok Sharma MP – invited
Greg Clark MP – invited
Polly Curtis, Chief Executive, Demos  (Chair)
Watch online: https://youtube.com/live/wm5prG5HCJU?feature=share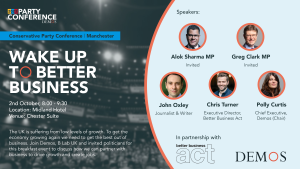 October 2 – 10:30 – 12:00
Creating the workforce of the future: Building relational health and care services
Baroness Finn
Nicola Ranger, Director of Nursing, Royal College of Nursing
Ben Glover, Head of Social Policy, Demos (Chair)
Watch online: https://youtube.com/live/I1e1tkjQC68?feature=share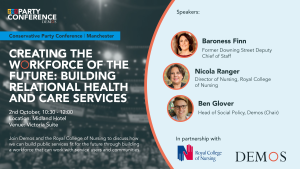 October 2 – 18:00 – 19:30
Reinventing our public services
Neil O'Brien OBE MP,  Minister for Primary Care and Public Health
Danny Kruger, MP for Devizes
Jerome Mayhew, MP for Broadland
Polly Curtis, Chief Executive, Demos (Chair)
Watch online: https://youtube.com/live/KjgCb6fLQiI?feature=share