Introducing the Public Participation Lab
We're excited to launch the Public Participation Lab, a unique new research centre to bring people into the heart of policymaking.
Made possible by a £100,000 donation from Martin Lewis OBE, founder of MoneySavingExpert.com and the Money and Mental Health Policy Institute, the Lab will bring together 25 years of research expertise with cutting edge technological methods to develop new ways for people to get involved in designing policies on issues that affect them.
How it works
Our five-step process can be adapted to explore any social challenge. In addition, all of our methods can be completed remotely.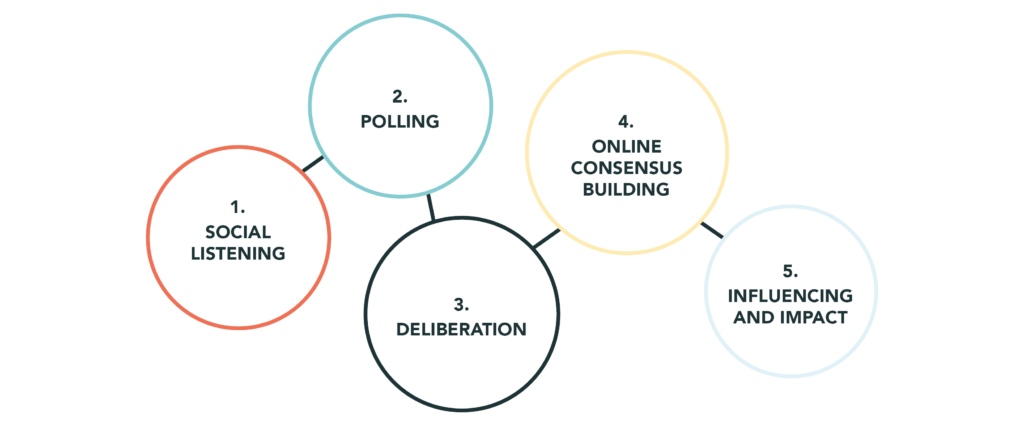 xxx Social Listening
Mapping and understanding the arguments people use, assumptions they make, and how people with different opinions interact online. This is essential preparation for deliberation as it brings true insight into the arguments out there "in the wild" rather than relying on expert predictions. To conduct our social listening, Demos utilises proprietary machine learning tools, known as Method 52, developed in partnership with the University of Sussex.
Polling
Using quantitative research with a representative sample of the public to assess the demographic spread of a range of opinions. Demos is the only think tank with in-house capability to conduct polls, the only charity to be a member of the British Polling Council and a company partner of the Market Research Society. This enables us to control costs and do polling at scale, through both large-sample representative surveys and multilevel regression with poststratification (MRP).
Deliberation
Powered by technology, we aim to bring together virtual citizens assemblies, as well as smaller deliberative forums. By using video conferencing, we can deliver deliberation at a much lower cost, enabling many more organisations to use deliberation more systematically. Working with specialist facilitators, we are using our in-house developer to build out the technical underpinnings of a successful online deliberative toolkit.
Online Consensus Building
Demos is the only think tank deploying an innovative online tool, Pol.is, for the purposes of policy development. Used in Taiwan to convene discussion and support decision-making by ministers, Pol.is is a valuable tool that uses artificial intelligence to identify points of consensus between different users, who can number in the tens of thousands. We are pioneering efforts to use Pol.is with representative samples of the public, to get a more robust read on how citizens will evaluate and engage with policy trade-offs.
Influencing and Impact
We build influencing strategies into all our projects, which run alongside the research programme, from start to finish. Our goal is to identify solutions, in partnership with the public, and ensure those solutions are put in front of decision-makers, the media, academics, experts, and politicians.
In addition to informing Demos' own research, the Lab will also be open to partner organisations including other think tanks, membership organisations, trade unions, businesses and charities delivering front line services. The Lab will not work with or on behalf of political parties.
To find out more about using the Public Participation Lab, contact [email protected].